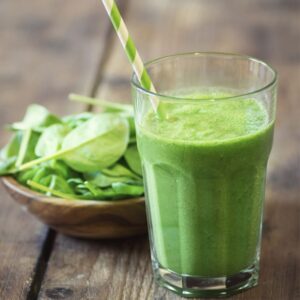 I call this smoothie "the Hulk" because it's so nutritionally dense and packs a powerful punch of green power foods. Smoothies are a great way to pack nutrients into one delicious drink, but they're also usually full of fruit and that can add a lot of sugar into your daily diet. This green smoothie recipe uses only ½ Granny Smith, which contains less sugar than other varieties. Detoxifying cucumber, fibrous kale and nutrient dense spinach, help to round out this green smoothie.
BENEFITS of spinach… spinach provides anti-inflammatory benefits and antioxidant benefits. Spinach is an excellent source of vitamin C, E, A and manganese —as well as a very good source of the antioxidant zinc and a good source of the antioxidant selenium—it's no wonder that spinach helps lower risk of numerous health problems related to oxidative stress. Our blood vessels, for example, are especially susceptible to damage from oxidative stress, and intake of spinach has been associated with decreased risk of several blood vessel-related problems, including atherosclerosis and high blood pressure.
1 scoop vanilla protein powder

¾ unsweetened Almond/Coconut milk

1 cup kale (separate stem and use only leaves up

1 cup spinach

½ green apple

½ cup cucumber, optional

1 tsp lemon juice

Blend 10 seconds.