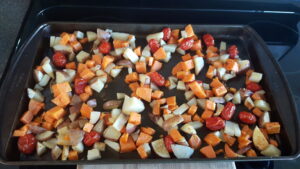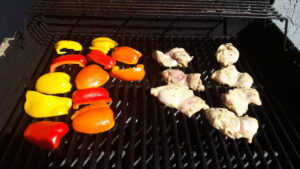 Well I have to say I made this awesome soup by accident!  I was multi-tasking, making two meals at once, so I could mix and match the ingredients as I needed.  The root vegetables added to this soup came from my Balsamic Chicken recipe, which you can find in my blog.  The root vegetables were roasted in the oven in a balsamic glaze with gives the soup a little punch of flavor, plus roasting your peppers either on the barbecue or in the oven brings out their unique sweetness as well.  Let's get started so you can hurry up and try it!  Dice up root vegetables of your choice potatoes, yams, turnips, onions or carrots. In a bowl, whisk together olive oil, balsamic vinegar, fresh garlic and salt and pepper.  Add root veggies and toss together, then pour onto oven roasting pan.  Bake in oven 400 degrees for 40 mins. or until tender. You can also roast your peppers at the same time in the oven or on the barbecue.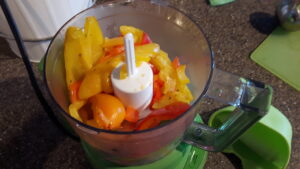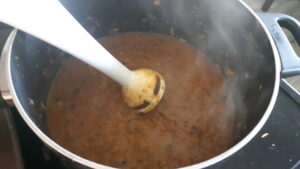 In a deep soup pot, add chicken or vegetable broth, bring to a boil. Once veggies are roasted, you can either transfer to the soup broth and use a hand blender to puree the veggies.  If you do this, expect some soup juice splatter!  Or use a food processor to puree veggies.  I used both and the food processor was way less messy.  Let simmer for 5-10 mins. and enjoy!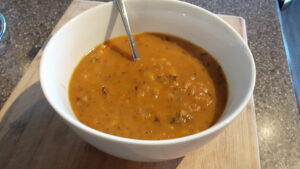 Ingredients: 3 cups finely chopped root veggies, 3 red Bell peppers  (you can use yellow or orange, but the red is sweeter), 1 small onion chopped.
2 cups of broth, chicken or vegetable…depending on how thick you like your soup, you can add or decrease the broth…I'd start with 1 cup and add the rest as you like.
Marinade for roasting vegetables in, 2 tbsp of olive oil and balsamic vinegar, 3 cloves crushes garlic, dash of salt and pepper.  NOTE…once the soup is ready you can add a tbsp of balsamic vinegar to give it a little extra kick!