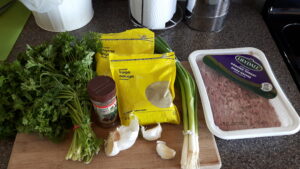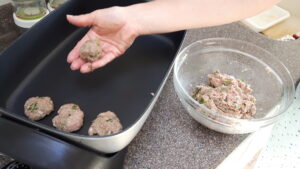 These mini sausage patties are bite size perfect but big on flavour! Some mornings I wake up ravenous and ready to eat anything in sight. I head straight for the fridge and load up two of the sausage patties and two egg muffins, reheat and I'm set for the morning…just like that, a healthy and fast breakfast choice made! Theses patties are great paired with a bowl of fresh fruit or my Coconut Pancakes, recipe on the blog. Let's get started…in a large bowl add all ingredients except the ground turkey and mix together. You might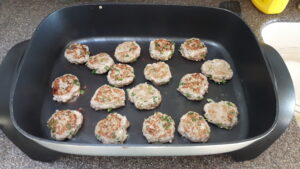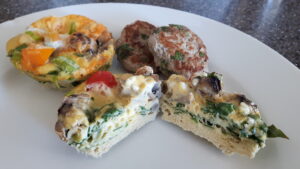 think "allspice" is an odd ingredient to add to meat but it brings out a sweetness your taste buds will be sure to enjoy. Add the ground meat and mix together using your hands so that the spices get spread out evenly. In a non-stick frying pan you could add a little dash of coconut oil and heat to medium. Scoop mixture out and roll into the size of a golf ball, flatten into patty and place in frying pan. After about 3-4 minutes flip and the top should be browned. Continue to fry til thoroughly cooked through the middle. Place on cookie sheet to cool. One package of ground turkey yields about 16-18 patties. Above patties are served with my Egg Muffins, recipe on blog. These can be baked in the oven on a sheet of parchment paper at 400 degrees for 20min. Store in fridge for up to 5 days or freeze.
INGREDIENTS: 1/4 cup fresh parsley, 4 cloves minced garlic, 2 tsp dried sage, 1 tsp dried thyme, 1 tsp onion powder, 3/4 tsp sea salt, 1/4 black pepper, 1/8 tsp ground allspice, 1 package ground turkey, chicken or pork.