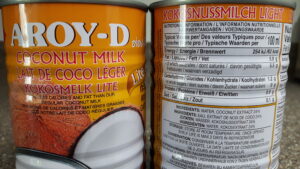 These tasty pancakes made with coconut flour are a great alternative for those of you who are wheat sensitive.  Forget the sugar loaded syrups, all you need is some fresh fruit and a scoop of your favourite yogurt for added protein.  There are many different brands of coconut milk sitting on the store shelf.  Before you toss it in your cart, read the label to make sure there are no NITRATES listed in the ingredients!  This is a nasty preservative you don't want in your body.  I bought my coconut milk at SuperStore and usually if you buy 3 at a time you'll save some money.  Let's get started…In a large bowl, whisk together eggs, coconut milk, coconut oil and honey.  Then add all the dry ingredients and whisk til smooth.  In a non-stick frying pan add a dash of coconut oil and heat to medium.  Use 1/4 cup to scoop out and portion batter.  Cook for about 3 mins. once you see the bubbles, flip! Place each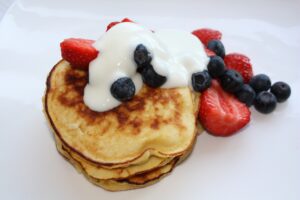 batch on cookie sheet to cool or serve right away before they're all gone!  Summer is the perfect season for fresh fruit such as peaches and berries.  .Recipe yields about 15 pancakes. Store in an airtight container in the fridge.  Or double your recipe and store in a zip-lock freezer bag and when you're ready to eat them, place in toaster for a fast reheat.  By doing this, you get more breakfast variety during your busy week.  Be sure to let cool before storage.
INGREDIENTS: 8 large eggs, 1/2 cup canned coconut milk, 2 TBSP honey, 6 TBSP coconut oil melted, 1/2 cup sifted coconut flour, 1 tsp cinnamon, & 1/2 tsp baking powder.