This turkey chili has got to be one of my all time "go-to" family recipes!  It's fast, inexpensive, family loves it and there's always enough for leftovers which makes life so much easier.  The secret ingredient is crushed pineapple and it's juice…the pineapple gives the chili just the right amount of unexpected sweetness with a little crunch!  Let's get started…saute chopped onion and garlic for about 3-4 mins, add ground turkey.  While the meat is browning, in a separate pot add tomato sauce, diced tomatoes, crushed pineapple and it's juice and heat on low. Give it a good stir, add spices and continue to stir.  Rinse and drain beans, add to sauce.  Once the turkey is cooked, add it to the sauce in your pot, stir.  If you find the mixture is too thick, add 1/2 cup – 1 cup of low-sodium chicken broth.  Turn down heat and let simmer on low for about 20-30mins. just to infuse flavours.  You can top your chili with 1 tbsp of low-fat sour cream or plain yogurt, enjoy!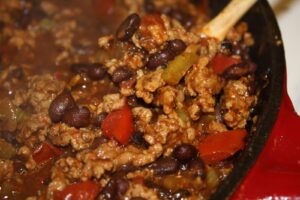 Ingredients:
1 cup chopped onion / 2 tbsp chopped garlic / 1 package ground turkey / 1 can 680ml  tomato sauce/ 1 can 28 oz diced tomatoes / 1 can crushed pineapple /3 tbsp chili powder / 1 tsp dried oregano / 3 tsp cumin / 1 tsp / dried mustard / 1/2-1 tbsp chili peppers / dash salt n pepper.
1/2-1 cup low-sodium chicken broth…if needed.  This chili is great for freezing so be sure to put a couple of servings aside, and freeze for later, enjoy!