I have to give credit to my Mom for this one!  I came home from work and as soon as I opened the door, I was overcome with this amazing aroma leading my nose up to the kitchen.  There before me, was this bowl of curried turkey awesomeness, topped with fresh cilantro…I was in heaven!  I inhaled two bowls.  Today I'm quite excited because there are leftovers and you know, food always tastes better the next day as the flavours blossom.  This would be super-delish with some fresh mango diced on top…my mouth is watering!  I highly recommend you double this recipe, you will surely want leftovers, enjoy!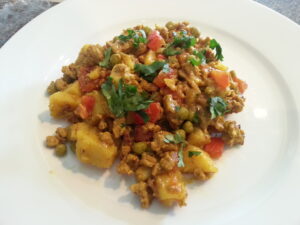 Ingredients
3-4 Tbsp vegetable oil ,  1 pound ground turkey ,  1 chopped onion,  2 chopped garlic cloves,  1-2 chopped fresh red chiles (optional),  A 1-inch piece of peeled ginger, grated fine,  1/2 cup water,  salt to taste,  1 Tbsp garam masala (or curry powder),  1 tsp turmeric,  1 tsp cumin,  1 tsp ground coriander,  2 large Yukon Gold potatoes, peeled and cut into 1-inch chunks,  2-4 Roma or other plum tomatoes diced,  1 cup fresh or frozen peas,  1/2 cup (loosely packed) chopped cilantro or parsley to top it off!
Method
1) Heat a tsp of coconut oil over medium-high heat in a large pot with a lid.  Add the ground meat, spreading it out over the pan. Try not to crowd the meat (you may need to cook in batches). Cook the meat without stirring, until it begins to brown.
2) Add the chopped onion and chiles. Stir and sauté for 4-5 minutes, or until the onion begins to color a bit. Sprinkle salt over everything.
3) Add the grated ginger and garlic, mix well and sauté for another 1-2 minutes.
4) Mix in the spices, water, and the potatoes. Stir to combine and cover. Turn the heat down to medium-low and simmer for 15-20 minutes, or until the potatoes are tender.
5) When the potatoes are tender, add the diced tomatoes and peas. Mix well and cover the pot. Cook 2-3 minutes. Add salt, if needed, to taste.
Right before you serve, mix in the chopped cilantro. Serve alone or to make this super-delish, add spaghetti squash or zucchini noodles!