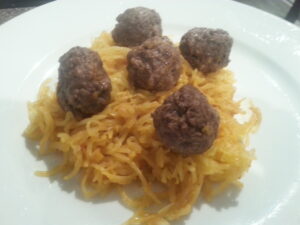 I seem to be on a curry kick lately because I have been adding it to everything!   I have to confess most of my posts / recipes are on the mild side of things.  My stomach is a bit of a "lightweight" when it comes to spices, so feel free to spice it up a notch or add a dash of hot sauce.  This recipe is a twist on the higher calorie traditional Italian spaghetti and meatballs.  Instead of noodles, I baked the spaghetti squash at 425 degrees for 40mins. with a little bit of coconut oil brushed over the top and sprinkled it with a curry spice mixture.  For my sauce I did cheat a bit and use a store bought brand…why mess with a good thing…this is my thinking while shopping tired!  I took 1 tbsp only because the store brand was high in fat and heated it up with 1 tbsp almond milk.  Then added the squash and 5 meatballs and mixed together.  I find the sauce can be a bit overpowering so don't over do it, enjoy all the flavours!
Ingredients for masala meatballs:
Parchment paper
2 lbs extra lean ground beef (or chicken, lamb or turkey)
1 tbsp garam masala
1 tsp garlic powder
1/2 tsp ginger powder
Fresh pepper
1 jar sugar free mango jam
Method:
Preheat oven to 400 degrees. Line a cookie sheet with parchment.  Combine beef and spice. Form into meatballs approx. 1″ diameter. Place on parchment.  Set timer for 20-25 minutes.  Heat sugar free jam in microwave for 30-60 seconds depending on microwave.  Start with 2 tbsp of jam in a large bowl, add 10-15 meat balls and toss together, repeat.  You will have a  flavour explosion between sweet and salty!  Just don't over do it with the jam and add unnecessary calories.  These meatballs can be served with a salad or roasted yams and veggies…the combinations are endless!